Info
Join:

1 Jun 2012

Last:

14 Jun 2012
je-photos
Male
51 years old
Brooklyn, New York
JE-Photos Website
IS URL: 
http://www.istudio.com/jephotos
About Me
Welcome to my portfolio!
I am a
published photographer
with strong contacts & connects in the industry, employed by Black Enterprise Magazine.
I am currently shooting with a focus on marketing, promotions & magazine submissions.
I shoot editorial, fashion, glamour & eye candy...basically I shoot it all.
I love what I do! I seek to capture your personality, your character, your essence in a shot...
You can see samples of promotional shots in my port... message me directly to be considered!
NO ESCORTS ALLOWED
I understand that models wish to bring an escort to their shoots but there will be many times when you can't bring a escort on set, particularly as you go higher up in this industry. Unless you're a minor, I do not allow anyone in my studio or on-location during a shoot aside from people involved in the shoot (MUA, hair stylist, models, my assistants).
Quite honestly - if you're shooting with a photographer that you need protection from... then you're CRAZY to be shooting with that person!
I will
consider
with
very select models
... Basically, you'd either be such an advantage on my port that I can't deny it...or you're published & will add to my profile.
My rates are VERY reasonable and among the most affordable in New York.
I don't keep pictures to myself...you take them -
you get them
!!! I do professional editing on my photos - so you get high quality images...
(I encourage all models to invest in a portable flash drive! You'll go home with your pics...)
Contact me for bookings & information. I give discounts & specials monthly...
A photoshoot for magazine submission is not a TF shoot!!! I will submit directly to 3 magazines which is worth the fee alone.
I look for models with class, style & a great look - both male & female...
I'm not paying you to shoot - don't ask! My work speaks for me... I understand the business aspect of modeling. There are plenty of photographers that will pay models to get the experience & quality necessary to advance.
I was in that position years ago myself - but not now... you will benefit from shooting with me.
I personally manage models so I'm not looking to take advantage of anyone - and don't want anyone looking to take advantage of me.
Let's see what magic we can create - great minds think alike!!!
Remember - a picture is worth a thousand words...
For more information or bookings:
www.facebook.com/JEphotos.net (Facebook) "LIKE" me
www.je-photos.net (Website) "JOIN" me
je-photos@live.com (Email) "CONTACT" me
@je_photos (Twitter) "FOLLOW" me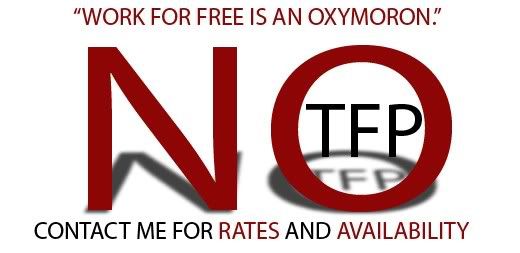 Credits
***MODELS*** (an asterisk * next to the name means multiple shoots)
(Models that I've shot with on Model Mayhem)
LadyBoss G* - MM #2657962
Biancka* - MM #1174892
Cher-Soleil* - MM #2535835
Dreemz* - MM #2424387
Sable* - MM #2380395
Lucky_Charmz* - MM #1768319
Marchet Russ* - MM #897501
Galaxxxy* - MM #2563973
Roselia - MM #2487088
Vernika* - MM #2487425
India Kiara - MM #2594531
Sarah V Tores* - MM #263331
peaarl - MM #2544740
Yayi Ramos - MM #785843
Toxikk* - MM #377230
Jessica Legend* - MM #2212256
ShantellKiana - MM #1773337
SA Butterfly* - MM #2312350
LovelyLongLegz* - MM #597302
Neseiri - MM #1850524
Koutoure - MM #1272701
Love MeKatrina* - MM # 1402640
Equashia Green* - MM # 2612672
Leonarda* - MM #2543975
Libra Divine* - MM #2502195