Details
Weight:
142 lbs
Hair Color:
Brown
Hair Length:
Shoulder Length
Eye Color:
Brown
Ethnicity :
Black
Skin Color:
Brown
Experience:
Very Experienced
Compensation:
Depends on Assignment
Info
Join:

15 Sep 2010

Last:

6 Jun 2011
About Me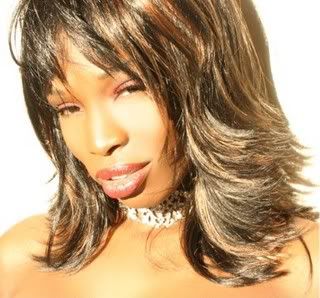 I am a woman of many hats
I am able for booking for all of the positions I am well qualified for below.
Actress
Model
Promotional
Brand Ambassador
Runway
Print
Tradeshow Model
I am looking for marketing companies and other companies that use Models/Actress. I am with a few agencies however, I am always looking for new REPS
The more the better.
******************************************************
I am a driven and serious person about my craft. I have studied for 3 years at Act One in Chicago. I would consider myself a witty person who loves what she does. I have worked on a few films that came here to Chicago.
If you have something you want me to read I am always game. Shoot it over to me.
Here in Chicago I am represented by
Stewart Talent
Elite Modeling
Lily's Talent
( DO FREELANCE AS WELL)
My Rates
My rates do vary depending on assignment. Please contact me for more information.
I will do TFP/CD shoots only if Make-up and hair are provided and if we move each other. (there are some exceptions) I will only engage in TFP/CD shoots if I am allowed the same rights as the photographer. I also require images for my records with a DPI high enough for printing.
If you want to edit pictures before I use them that is fine. It's your shot. I just want pictures with at least 300dpi. and able for printing the size 11x14. Photo Credits will always be given unless you tell me otherwise.
Credits
T.V.|Film:
Jenny Jones 6 seasons
Barber Shop2
Ice Harvest
Love Triangle
The Company
The White Elephant Party
Bally Total Fitness

Interviews
Beauty Does Lie Movie Priemere
Vibe Vixen Model Search
The Catwalk is on Fire

Tradeshows:
Cannon~Spokesmodel
PLMA~Boothe Hostess
International Lingerie Convention~Escante
Black Woman's Expo~TCB
Bridal Expo~David Bridals
Mid-West Beauty~Vitale
Bronner Brother~Mazani
Proud Lady~Vitale
Halloween Convention~Model
***More detail upon request***

Runway:
Michael Joseph
Barbara Bates
Tony D
House of Duvall
B-Vain
Mai-Rees
Double Stitch
Quinton D'Alexander
Island Furs
Collage
Sepia/Vogue Esquire
Vibe/Source Mag.
***More detail upon request***

Commerical Print:
Spring Air~
J. Alexander~
Well Fargo Catalog~
Bates Designs Catalog~
Scarlet's Design Catalog~
American Girl Doll Company~
New Negro Magazine~
Farmal Ingredients~
***More detail upon request***

Photographers I've Worked With
George Vincent
Scott Payne
Alter Image
Don Levey
Ms Photo
Mikeboy
Exotic Images
George Lindmark
BloPhoto
Vegas Alien
Karlton Designs
Dan Peterson
Mark Long
Amiee Photography
Sensual Beauties
Roderrick Powell
Tags
16 Sep 10 21:23
Hello and welcome to istudio.
16 Sep 10 16:42
Just visiting your page to say hi and welcome. Please let me know if you're ever in need of professional photo retouching