Info
Join:

1 Feb 2013

Last:

10 May 2017
WVelax
Male
43 years old
Holyoke, Massachusetts
Currently in Holyoke, MA
About Me
Hi, My Name is William, I'm an Hobbyist Photographer, and living in Western Mass, I Love Photography, recently became interested in photographing people.
I'm looking to work with anyone interested in expanding their portfolios in whatever field they need. Compensation is flexible and I'm open to all sorts of deals! I'm willing to work for new ideas!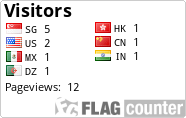 Tags
15 Feb 14 19:36
Nice port! Wishing you all the best.