Details
Height:
5'10"
Weight:
140 lbs
Measurements:
34-30-32 in
Shoe Size:
9
Hair Color:
Brown
Hair Length:
Short
Eye Color:
Green
Ethnicity :
Caucasian
Skin Color:
White
Experience:
Very Experienced
Info
Join:

6 May 2010

Last:

12 Feb 2013
Friends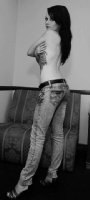 loynesy
Male
37 years old
bridgwater, United Kingdom
My OMP Profile
IS URL: 
http://www.istudio.com/chrisloynes
About Me
www.chrisloynes.blogspot.com

LOYNESY.... CHRIS LOYNES

PHOTOGAPHY SHOULD BE FUN!!

NO EGO ....... JUST IMAGES!

massive attack new album cover january 2010

ALL IMAGES HAVE A COPYRIGHT

I REALLY ENJOY WORKING WITH PHOTOGRAPHERS TO CREATE IDEAS AND THEMES WHICH REFLECT MY PERSONALITY AND ACHIEVE PHOTOGRAPHS WHICH ARE BOTH FUN TO DO AND GOOD TO LOOK AT.

IMAGES WHICH ARE EYE CATCHING, TELL SOME SORT OF STORY AND ABOVE ALL REPRESENT MYSELF IN A STYLE I LIKE TO THINK IS MY OWN.

I'M BASED IN THE SOUTH WEST OF SOMERSET AND HAVE A RELAXED BUT PROFESSIONAL APPROACH, WITH A STYLE THAT IS A MIX OF FASHION, PHYSIQUE AND ARTISTIC NUDE.

I'M ALWAYS LOOKING FOR NEW PHOTOGRAPHERS SO DONT BE AFRAID TO GET IN TOUCH.

I AM AGENCY REPRESENTED.

SO WHETHER YOU'RE A NEW OR ESTABLISHED PHOTOGRAPHER IM HAPPY TO HELP YOU BUILD A ROUNDED PORTFOLIO.

I AM HAPPY TO WORK ON A TFCD BACIS IF I THINK THAT YOUR WORK COULD ALSO BENFIT MYSELF, ONLY FAIR LOL.

BUT I DO HAVE VERY REASONABLE RATES FOR MY TIME.

IF YOU NEED A SPECIFIC LOOK OR STYLE LETS WORK ON IT TOGETHER!

PLEASE LEAVE A COMMENT OR TAG EVEN IF YOU DONT LIKE MY WORK!! IT LETS ME KNOW I'M NOT ALONE ON HERE

FRIEND REQUESTS ARE ALWAYS WELCOME..THATS HOW WE NETWORK ISNT IT?...