Info
Join:

6 Jul 2009

Last:

22 Feb 2011
Marcus Jones Photography
Male
44 years old
Houston, Texas
About Me
UPDATE!!!Pose for the Camera Shoot!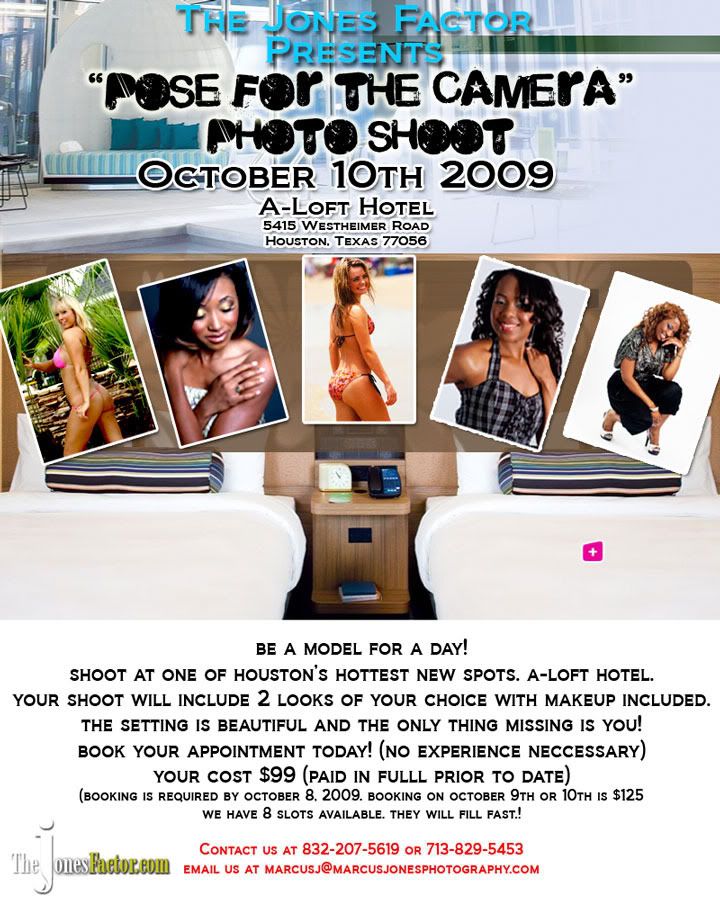 Hi and welcome to The Jones Factor, the explosive and sometimes Deadly combination of Marcus Jones (Photographer) & Kimmy Jones (MUA)
Our Rates are very reasonable and worth the investment in your future. If you are a serious model you can understand the importance of quality work and skilled people.
The Rates
Actor Headshots - $100
1 Hour shoot - 2 Looks and 2 Photoshopped images on CD/DVD ready for print.
Model Portfolio - $250
2 Hour shoot - 3 Looks and 5 Photoshopped images on CD/DVD ready for print and web ready. MUA INCLUDED!
TFP is on a very limited basis for VERY SERIOUS models that can benefit us a well you. This would include submitting to magazines, or other popular websites that would help us gain more exposure.
All images will be viewable online to choose from that only you have access to.
Makeup provided by Kimmy MM#114329
Other services provided are.
Model Business Cards - 1000 Business Cards $125
Model starter websites: $99 - $399
Lists
Credits
Tags
31 May 10 23:58
Just stopping by your page to say hi! Please let me know if I can ever be of any assistance with retouching any of your photos.
10 Aug 09 18:46
vary nice port you got there...
12 Jul 09 15:45
How are you?
11 Jul 09 22:47
2 bad I'm 2 far away, just did a implied theme wit jeans earlier 2day Best wishes in ya book ;-)
07 Jul 09 03:59
HEY MARCUS I FOUND YOU