Details
Height:
5'2"
Weight:
103 lbs
Shoe Size:
7
Hair Color:
Brown
Hair Length:
Long
Eye Color:
Brown
Ethnicity :
Other
Skin Color:
Olive
Experience:
Some Experience
Compensation:
Depends on Assignment
Info
Join:

24 Dec 2009

Last:

3 Mar 2010
Deanna Marie
Female
Virginia Beach
IS URL: 
http://www.istudio.com/deannamariepinup
About Me
MYSPACE
|
FACEBOOK
|
RETROKITTEN
|
DEVIANTART
MM# 748891
You can view my full portfolio by clicking the "Deviant Art" link above.
"You and me could write a bad romance"
Lets create something epic.
Attn:Fashion Designers
-- If you're looking for a model to showcase your wardrobe, please get in touch. I am mainly interested in modeling latex, lingerie, swimwear, Lolita, Burlesque & Pinup clothing.
Traveling & Events Schedule:

Richmond Virginia- Jan. 5th (booked)- Red Rum


Staying close to home for the holidays. I will resume traveling after the New Year! Taking bookings now for January.

Future travels: California , Vegas, Atlanta, New Jersey, Washington , & Texas.

I travel often and am available for special appearances, event host, clothing shoots, car shows, & bike shows.
I'm interested in shooting mainly Pinup/Burlesque/Latex with professional photographer that specialize in these themes. I was recently published in Pinup Garage Magazine and would like to continue shooting with hot rods & choppers for magazine submissions. I do not pose nude. I provide wardrobe, props, and do my own makeup and hair (although I prefer to work with a Muah artist and wardrobe stylist when available.)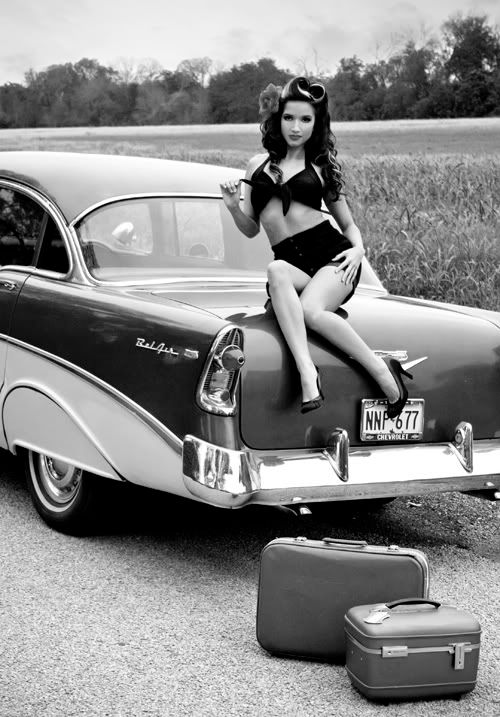 *Photographer/Mua: Wicked Hailey MM# 8195 *
I am now shooting selective horror & creative themed shoots.
*Photographer" Bombshell Pinups MM# 36620*
I love working with new & established designer's, photographers, illustrators and makeup artist!!
Primarily accepting content trade, wardrobe trade, paid work, or tearsheets. I do very selective TFP/TFCD and trade work if it will benefit my portfolio with photographers that specialize in the genres I am interested in. Paid work is always top priority. I am willing to travel anywhere if you help me out with expenses.
To book with me please contact me on here or directly at deannamariepinup@yahoo.com with:

- Name & Contact Information
- Compensation (Paid, tearsheet, content trade, wardrobe trade, etc.)
- Time, date, location, length of shoot & theme
- Any additional information/details that I may need to know
*Photographer: Creative Touch Images Mm# 785163/Mua: Aston Evada Mm# 1374295*
I make hair accessories and can provide wardrobe to models/photographers for a small fee.
Like the latex look but can't afford it?

I plan to start a line of colored tape dresses (similar to a latex look but much more affordable) in the future. If you are a photographer or model interested in this styling for a shoot contact me for details.
I am also a photographer and Makeup/Hair artist you can view my other portfolios at:
http://www.modelmayhem.com/onestoppinup
http://www.modelmayhem.com/deannamariemuah
Credits
My amazing boyfriend for always traveling with me & supporting me in what I do and all the amazing people I have had the pleasure of meeting/working with along the way!
Print:
Pinup Garage Magazine Issue #3 (
http://www.pinupgaragemagazine.com)
Designers:
Anatomic Bomb (www.anatomicbomb.com)
Victoria Velvet (www.victoriavelvet.com)
Girdle Bound (www.girdlebound.com)
Xoxo Costumes (#901126)
Taissa Lada Designs (www.taissaladadesigns.com)
Web:
Vicious Vixen
http://www.brutalashell.com/2009/11/vic
… nna-marie/
My Favorite Pinups
http://www.myfavoritepinups.com/index.php?itemid=64
Car Kulture Deluxe Magazine Pinup Deluxe Gallery
http://ckdeluxe.com/galleries/pinup-deluxe/3439/
Ol' Skool Rodz Betties Gallery
http://olskoolrodz.com/galleries/betties/31267/
Atomic Pinup
http://www.atomicpinup.com/DeannaMarie.html
The Rebel Pin-Up Page
www.myspace.com/rebelpinups &
http://facebook.com/pinups
The Pinup Post
http://www.thepinuppost.com/index_files/Page659.htm
Tags
19 May 10 19:10
Deanna, If you need anything we are all here and if you are interested in contributing to our magazine, feel free to message me: http://www.ModelingINTl.com/
24 Dec 09 11:51
Welcome to iStudio. I see some nice work. We would like to see more, now you have the room.
24 Dec 09 11:04
Impressive port.