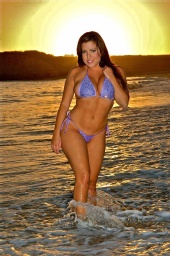 VIP
 View Photos (26)
Info
Join:

23 Sep 2013

Last:

30 Apr 2014
About Me
My main interest in people photography is in all forms of glamour - including studio and location boudoir, pin-up, nude, and erotic. I work at the beach whenever possible where I can combine the challenges of capturing the movement of the water and the model with the dynamic subtlety of sunset lighting and the human form into a photo with synergy, subtlety and sophistication.

Although I enjoy shooting creative studio work, I consider myself, first and foremost, a very accomplished natural-light photographer. I've worked in just about every photographic genre' -- from sports photography, weddings, fine location portraiture, events photography, landscapes, fashion, glamour, and fine art. But it's my broad experience with landscape composition and natural light that allows me to create unique glamour and art images in which the model, backgrounds, and lighting are integrated into a synergistic image. My relaxed shooting style brings out the very best in my models' talents and produces images that capture my model's true potential.

I enjoy working with models of all levels of experience in a very creative, collaborative atmosphere to create those awesome photographic images that capture the true beauty of the female form. My outstanding command of the challenges inherent in natural light venues produces the killer images that enhance my body of work and the model's portfolio.

MY RATES FOR HIRE:

> STANDARD: $150/hr. with 2-hr. minimum
$500 half-day (4 hrs.)
$800 full-day (8 hrs.)
(These rates are negotiable to accommodate special projects/need.)

> NEW MODELS: $200 FOR A 3-hr. shoot
(This rate is available exclusively to new models who are building their first
professional portfolio.)

****************************************************************************************************
Ts & Cs FOR SHOOTING WITH ARTISTIC GLAMOR
****************************************************************************************************
COMMUNICATIONS: Good professional communications is essential in maintaining a stress-free working environment and for booking shoots quickly and efficiently, with a minimum of back-and-forth emails. Like any good business, I expect that models will return calls and emails in a timely manner -- by the end of the business day, or within 24 hours - whenever possible. I reserve the right to cancel shoots or book with another model if communications are delayed outside of there guidelines.

SHOOT CANCELLATIONS: Things happen, and occasionally a shoot needs to be cancelled -- bad weather, etc. However, please be considerate of my schedule (as I will of yours) -- a booked shoot removes that date from my availability calendar to take on other opportunities. Since I typically book shoots a minimum of a week (and up to 6 months, on occasion) in advance of a shoot, a last-minute cancellation will most likely result in some unplanned downtime in my shoot schedule.