Thông tin
Ngày tham gia:

12 Feb 2011

Ngày gần nhất:

16 Mar 2013
Về tôi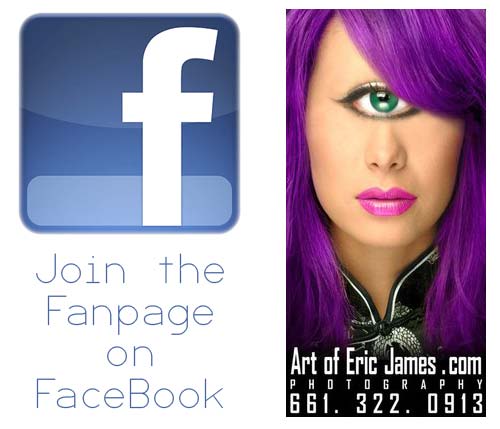 Eric James Swearingen of the Art of Eric James Studios is a Commercial Artist, Photographer, Filmmaker, Motion Graphics, and Special Effects artist. He has been in the industry for over 25 years and has accrued a vast repertoire of innovative and imaginative techniques that have awarded him international acclaim.
Recently featured in an article published in Le Monde Magazine Paris, France and in numerous trade journals within Australia.
__________________________________________________________________
The gallery showing of my complete collection of images from ITVA 2009 in Berlin, Germany is now on display in the front window of the 2009 USA Trend Vision Award winning, Norma Jean's Atomic Kitten Salon located at 1316 19th Street in Bakersfield, Ca. for more info call 661.323.7653.
__________________________________________________________________
Additional photographic works can be viewed at:
http://www.OneModelPlace.com/EricJamesDigital Cinema works can be viewed at:
http://www.youtube.com/artofericjamesArt of Eric James Studios
Bakersfield, California
Phone: 661.322.0913
http://www.ArtofEricJames.com
Danh sách
Tags
25 Dec 12 12:40
Thank You for viewing my portfolio! Thank you for the tag! :) trust me when I visit I will taking over the studio :)) much love Nikkya
17 Dec 12 11:57
Hi! It's nice to see you on here too! Thanks for FR! You have an awesomeness day!!! :)
02 Dec 12 15:35
Thanks for the friend request love your work (:
13 Nov 12 02:41
1904 Are you on http://www.talentsmls.com cause its a bigger site and free?
23 Oct 12 14:36
Hey how are you? If you need a website I do them for really cheap. Check out my stuff :) www.siegewebdesign.com
12 Apr 12 20:19
I love the way you create image. Great stuff. Pietro
22 Feb 12 00:09
Thank you for the request
23 Dec 11 11:19
Great work!
09 Nov 11 12:03
Dude your work is beyond Amazing! I never seen anything like your work! Keep up the great work . Best wishes Atef Cadeau
13 Aug 11 16:02
Thank you for the App !! =) You Have A marvelous Port And Experiences. Really Great Shots , Your Art Work even better then Me ^^ Wish I could Learn alot from you sir