Details
Height:
5'4"
Weight:
140 lbs
Shoe Size:
9
Hair Color:
Brown
Hair Length:
Long
Eye Color:
Brown
Skin Color:
Brown
Experience:
Some Experience
Compensation:
Depends on Assignment
Info
Join:

12 Nov 2009

Last:

4 Dec 2009
Mounique La Rae
Female
38 years old
San Bernardino, California
IS URL: 
http://www.istudio.com/mouniquelarae
About Me
--------
Dates I am Booked
---------
*November 6-9th (Las Vegas, Nv)
*November 20-22nd ( San Bernardino California)
*November 15th (Los Angeles)
-----------------------------------------
"Find out who you are and do it on purpose"~Dolly Parton
Hey MM! Thanks for stopping by to take a gander at my page! Im a very fun person and enjoy shooting with fun and open photographers, Models, Makeup Artist etc. I have a bunch of ideas in the works and would love to collabrate with other creative people.
I am interested in, but not limited to

~Glamour
~Artistic
~Urban (hip hop)
~Fashion
~Casual/Commercial
~Lingerie

I do NOT shoot nude however will consider implied nude depending on the concept and project....CONTACT ME FOR RATES ---------> I DO PAID AND TFP/CD depending on the photographer and concept if it benefits both of us..IM VERY REASONABLE….CONTACT RATES ON THESE AS WELL....I also request for unedited CD of pics same day of shoot….IF not day of shoot then within a week, and edited within 2 weeks Please note!
: I have 4 Tatts
1 on each calf (one on upper right) (one on lower left)
1 on back
1 on hip
They arent major tatts, and I know how to cover them with makeup. Just FYI.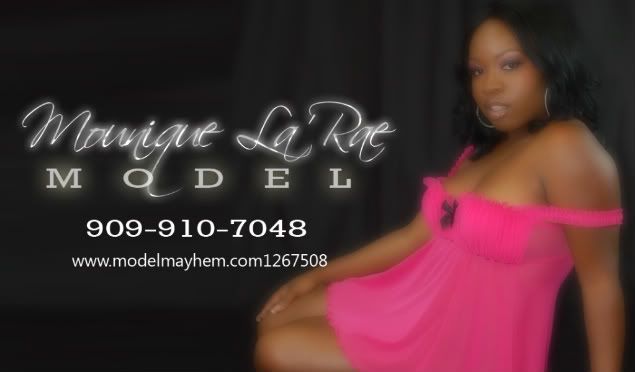 If you are interested in contacting me for a job opportunity or casting, please leave me a message with any necessary contact information and please include:
1) A description of the project
2) Date, Time, and Duration of the Shoot
3) Location of the shoot
4) Rates or TFP or TFCD
5) Hair, Make-up, Wardrobe included/extra/not available
and title the message "model mayhem"
OTHER CONTACT INFO:
Email:Msdstny25@aol.com
AIM: Msdstny25
Follow me on Twitter:twitter.com/MouniqueLaRae
null
Credits
PHOTOGRAPHERS (Star Ratings) Please do not get offended by my opinion. These stars are based on how I felt about the photos, connection between photographer and I, etc. ALL OF YOU WERE AWESOME TO WORK WITH Thanks!
Frank Ross Photograpy.... #706363 *****
MLG Fhotos....#486248 ***
HB Productions.... #1235897 ***
LuckyBastardsFotography.... #477367 ***
Vernell Willams.... #1067089 ***
Touch N Go Photography.... #1265536***
Jemal Yarbrough....#730186 ***
OLJ Studio....#242090 *****
JoeDee Fortress....#1230736 ****
sm Studio....#1324865****

HUB CITY PIXEL....#44310(STILL Waiting on photos)

WALKER photography #806 *****
WI Photography....#416052****
MAKEUP ARTIST
Makeup by MiMi....#264942 *****
MouniqueMakeup....#1364570
Tags
14 Nov 09 03:55
Hey, Looks like I have a stalker. LOL Welcome to istudio
13 Nov 09 23:13
Thanks for the comments Boo. Keep it Sexy!
13 Nov 09 17:24
Welcome to istudio and excellent images...