Info
Join:

28 Sep 2013

Last:

11 Jul 2014
Friends
About Me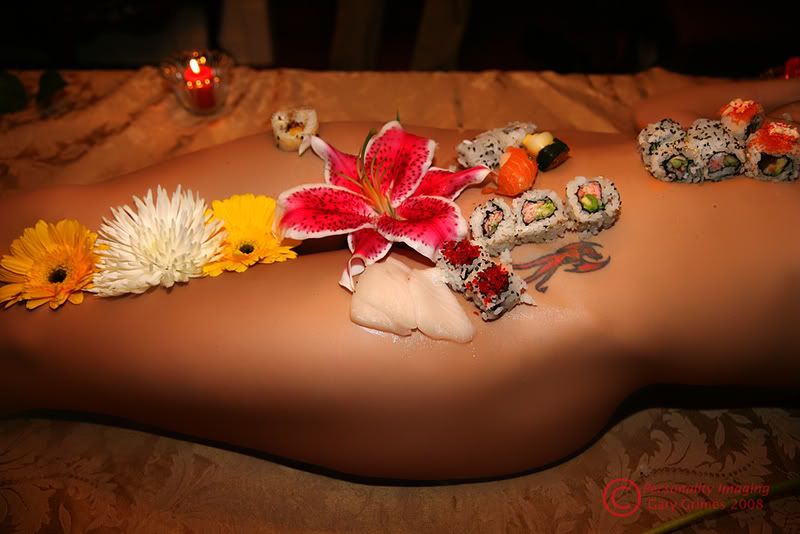 Visit or add me on Facebook:
http://www.facebook.com/sushichefmark
http://magis.to/enonWlBTC0E4OHwHDmEwCXl2
I'm a chef and artist. I provide nyotaimori "body" or "naked" sushi for clients across the United States. I have been doing this since 2004 and have worked with some amazing models and well known clients. Some artist use paint, some sculpt, some photograph...I use sashimi and sushi. I have done events for major music artists, NFL, and NBA players.
Models: I require an interview meeting prior to hire for any event or photoshoot. You know if your portfolio has been largely photoshopped. I need exceptional women with nearly perfect figures for live events. Your honesty saves me and you a lot of issues and insures my clients are happy with their experience.
Nyotaimori models are typically nude when lying on the table, but the lower private region is covered and legs crossed to eliminate any potential exposure of the area. Nipples are covered with either sushi and/or leaves. Some events require bikini bottoms and pasties. Remember this is art, not porn. Let me know your limitations and preferences upfront, so I can make sure you're comfortable and I am too. My sushi is my passion, pride, and art. I expect you to be respectful, but at the same time have fun and enjoy the experience.
I've worked with some great models from this site and they all will say they had fun. I expect you to be professional and able to bring a level of personality and charm that shines through. If you're going to model for me at an actual naked sushi event, here are the details:
1) There is no sexual contact and only chopsticks will be allowed to remove the sushi and sashimi if you are modeling for an actual event with guests.
2) Front side of the Body must be completely shaven or waxed.
3) No scars or stretch marks, unless you tell me beforehand. This isn't as important for photoshoots.
4) BE DEPENDABLE
5) I'm very fair. Every model that has worked with me had a great time doing so.
6) LOOK LIKE YOUR PICTURES- weight especially!
7) No jiggles on ass, hips, arms or stomachs. Trust me it isn't a very flattering position to be in when you're lying on a table. Everything that is loose will push outwards.
The majority of the photos of the Nyotaimori and sushi were not taken by me and I tried to credit the photographers with MM accounts. All sushi shown IS MY OWN and copyrighted materials. All of the other photos are 100% mine.
*************
Book: I'm in the process of putting together my first self published book of sushi art. I'm looking for models and photographers who are wanting exposure on a national level to contact me. There is no pay, so if you want the publicity and ability to say you have been published, then this project is for you. This book isn't designed to make anyone rich, but it will give you national exposure.
*******************
Please Visit My primary site- www.nyotaimoriexperience.com or www.soyosushi.com
Or drop into my new restaurant in Wilmington, called Tamashii.
Credits
Lucid Dreams Party 6/21/08
DK's Birthday Party
East Coast Swingers Lifestyle Convention 10/2005
Sunset Club Valentines Cupid Party 2/2009
VARIOUS EVENTS- EAST COAST
VARIOUS EVENTS- Phoenix, Los Angeles
Waka Flocka BET Hip Hop Awards Party, Atlanta, Ga
Tags
11 Jul 14 12:54
Amazing work!