Tony KnightHawk Studios
Male
Florida
BUY MY IMAGES HERE
IS URL: 
http://www.istudio.com/tonyknighthawk
About Me
To see more samples of Tony KnightHawk Art go to:www.knighthawkart.com
To see more samples of Tony KnightHawk Art go to:KnightHawk Art.com
www.knighthawkart.com
Model Mayhem
www.modelmayhem.com/tonyknighthawk
Model Brigade
www.modelbrigade.com/tonyknighthawk
Click Here to BUY MY IMAGES
www.KnightHawkArt.imagekind.com/
"Tony KnightHawk has the unique ability to get beyond the obvious impact and shock value of this genre of photography. He delves deeper, to a more personal level. Take a moment to let his art speak to you and see his rare ability to create both an art photo and a sexual reference point in one work. Tony KnightHawk presents the nature of the S/m relationship with depth, texture and artistic surface."
I am a photographer. I am living my dream.
You are welcome to come share my visions, my hopes, my daydreams, and my nightmares.
My hopes are to meet people on here who are interested in creating inspirational and out of the box images. My dream is to be proud of the images we create. My nightmare so far has been dealing with closed minded individuals who choose not to understand the real purpose of art in the world.
If you want to be part of a creative image contact me at knighthawkart@yahoo.com
My art is TF* only. Although I would categorize myself as a fetish photographer it is by far not the only genre I photograph. I am a hired gun and have photographed everything from, candles to children to pets to playmates.
I have commercial work that pays as well. I do not hire anyone without a test shoot or without references.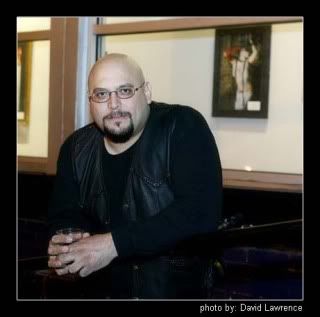 Thanks David for shooting this at my gallery showing.
Its one of the very few images I have of me.
Tags
08 Dec 10 06:15
welcome... Thank you for the FR..great port!!
09 Nov 10 19:57
A photographer after my own heart. I enjoyed looking at your work.
03 Nov 10 08:57
Welcome Tony...Awesome Work!!
28 Oct 10 23:30
Welcome to iStudio!! You have some terrific images! Thank you for taking the time to check out my portfolio, it is always appreciated!
06 Oct 10 18:30
Just stopping by your page to say hi and welcome! Please let me know if you are ever in need of retouching assistance