Info
Join:

14 Jan 2010

Last:

16 Jan 2011
Kristen Martin Photos
Female
45 years old
Pottstown, Pennsylvania
Kristen Martin Photography
IS URL: 
http://www.istudio.com/kristenmartinphoto
About Me
Aloha! My name is Kristen Martin. I recently moved to Pennsylvania from Hawaii. I am currently working on select TFCD with Models, MUA, Hairstylists and wardrobe. If you are interested in TFCD or pricing packages please feel free to email me.
In the past I've shot a lot of photographs pertaining to Real Estate, Landscape and Travel. I'm looking forward to branching into a different side of photography more and more each day. I'm very eager to learn and I'm very open to new and fun ideas. I recently relocated from Waikiki to Philadelphia, but I am willing to travel to the surrounding areas. I'm still semi-new to the area and I'm not familiar with all of the hidden gems I know this place has to offer for shoots, so if you have an idea in mind I would love to hear about and speak to you about setting up a shoot.
For examples of my work please visit my website www.KristenMartin.net (which includes links to some of the other sites I post on) You can also view my portfolio at
http://www.bemodel.com/kristenmartinphoto
or on Model Mayhem
***Again - if you have an idea or you are interested in setting up a shoot please contact me! I'm very
open to ideas and I'm not shy or hesitant in doing more adult themed shoots.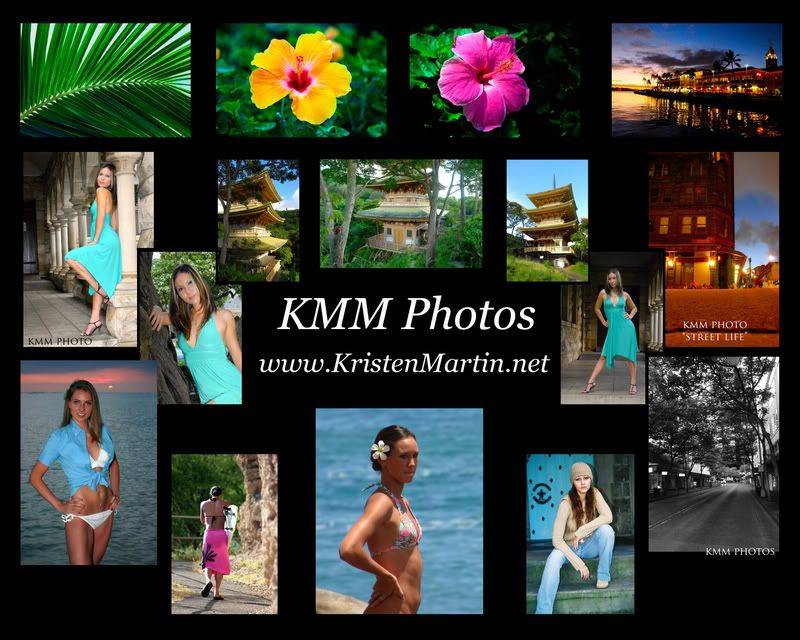 Credits
Models:
Cina MM #630114
Serena
Hudson
Jessica
Nikki
Bobbi Yin
Christina
Alana
Emily
Liah
Cyndi
Cris Straley MM#497246

MUA's:
Princess Oldroyd MM# 716229
Adriana Rivera

Sites:
BetterPhoto.com
Musecube.com/kristenmartin
NikonCafe
KristenMartin.net
Dgrin
Pixalo
PhotoForum
ForumsHawaii
Model Mayhem
Istudio
BeModel
Model Meetup
JPG
Dreamstime
Model Brigade
Model Harmony

Publications:
Star Bulletin
AOL
Band Posters
Facebook
Myspace
Real Estate Brochures
Homes & Land Magazines
Many other marketing materials for various companys in Florida, Hawaii and Pennsylvania
Tags
16 Jan 10 01:49
Very nice work. M.
15 Jan 10 23:31
Kristen, welcome to iStudio... Very beautiful work and models.... You will have many places and people to photograph while you are in Philly.... Much Success to you!!