Details
Height:
5'6"
Weight:
125 lbs
Measurements:
34-27-37 in
Hair Color:
Other
Hair Length:
Very Long
Eye Color:
Brown
Ethnicity :
Other
Skin Color:
Other
Experience:
Some Experience
Compensation:
Depends on Assignment
Info
Join:

31 Mar 2009

Last:

17 Sep 2009
Tesseract the MOEP
Female
35 years old
LA/San Francisco/Budapest/Black Rock Cit, California
IS URL: 
http://www.istudio.com/thetesseract
About Me
"The Harder one attempts for individuality, the more one turns into a carbon copy... lost and blended with the rest into a sea of lost identity. Individuality is supposed to come NATURALLY.."
************************************************
The World is a jungle and im the beast....I may not have as much experience as other models, but im experienced in life, travel, debauchery, culture and beyond... I want to test my limits of creativity, see how much I really have to offer, I want to challenge myself mentally, emotionally and psychically. ... Go new places....I wanna do everything[what a beautiful feeling]. Live my dream as the ultimate action figurine..MOEP.... this stands for the MASTER of EPIC PROPORTIONS. )*( because...well...thats what I am! everything I do is of epic proportions.
My name is Tess [and I am a victim of DELICIOUSNESS]
aka
The Tesseract.
The Specialist.
Hot Cakes
Hotness Mcgee
DR. GIRLFRIEND #2
Tess-anne
Kis Mokus [Little Squirrel]
Sharka Spice!
Messy Tessy
Tessanasin
Tessorilla
Gorilla Punci...
Tess _____ (insert sharp object here)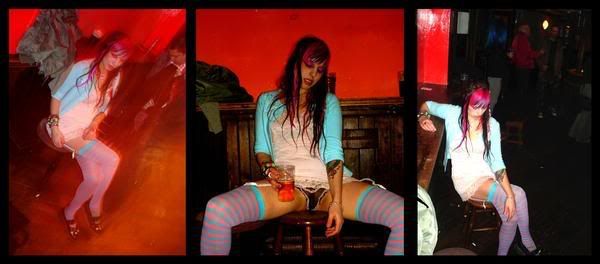 [Camden Town UK Spring 2007 - Before I got in Trouble ]
[Adventures of Vomitgirl - Winter 2006 Budapest]
you get the point... ;-D, but on the reals, my REAL NAME is Teressa Marie. <3 And the last nickname is a joke..if you didnt already notice. I am half shark, because as a child I did secret underwater attacks and never wanted to get out of the water. I have been to Shangri la and back Although I don't give myself the nickname of "_____[fill in blank] MUSE" (no offense, really, but I must say that the term MUSE is in the name title of about every other person I stumble across on here..) I have to say that I myself am a muse as well.....Or so I think....'a guiding spirit, a source of inspiration'...or thats what I hear on regular occasion from friends and randoms.
the other titles are simply my alter egos
Subculture Chameleon..Retro Speciality at its finest! very silly indeed...hence the following photograph: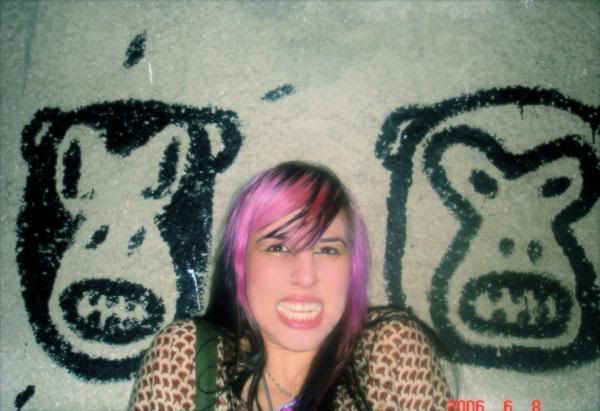 *POSSIBLE TRAVEL DATES*
March - San Francisco and San Diego
April - Miami, Florida Keyes, Cuba
May/June - Redding CA and then Portland
July - San Francisco, Mexico, San Diego
August/Sept- Black Rock City )*(, NV
MAYBE go back to Hungary to re model our flat.
Dec- Colorado
oh ya and im chicken rich. are you? if not, you should be...ya'll aint rich till your chicken rich! Married [yes, MARRIED] to the most awesome and sexy music master Janos. yes, im taken forever.
im actually from Valley Village- CALIFORNIA... hollywood area, also stay in San Francisco half of the time, and spent every summer of my childhood living in Hawaii(maui and honolulu)..Also spent a big portion of my childhood in and about Europe- I was actually pottytrained in a coffee shop in Amsterdam! just lived in Europe for 2 years...living in Budapest mostly, touring around Hungary with my husbands punk band..partaking in anarchist activities and such..frequently in UK, germany, italy and all over really...but i dont want to bore you with all my travel adventures:) im considering trying out Portland for a bit, before I plan to move to San Francisco...
I am now eligible to be a Hungarian citizen, which makes me an EU citizen... I will be going back soon and possibly buying a property in Europe in the future! possibly go back for a school, maybe a semester when im in fashion school? call me a nomad, a traveler, a wandering soul... CONSTANTLY in search of craziness, outrageous adventurous experiences. i have an insane rush for life. i will do anything once, to go everywhere, meet everyone experience all is my ultamite heaven. just a warning. im A BACCHNALIAN.
I get many confusion and questions regarding my cultural background. My whole life I have gotten everything from Persian, Spanish, Egyptian, Morrocan to German and Isreali. After all the curiosity I get, heres the jist;
1st generation Hungarian[Mother was born/raised in Budapest] and Italian/Latin/French father from NYC. Hungarian/Italian/French/Latin descent.
Es....szia! Etterem magyarul....beszel kicsit magyarul! vislat!
im very ecclectic music/fashion/interest wise, my daily attire is a bit more alternative, ive always had trouble labeling exactly what my style is called...as most have told me! I dont think I'm better than anyone else, just more STYLIN' than most I have a wide ranged wardrobe that I am able to take to any shoot! I like to consider myself A burlesque-ish Burner Experimentalist, highly into Burlesque freakshow attire, with a splash of steampunk and a drop of pinup/glamour and sophistication, mixed with fruitsy anime and geisha, blended with girly vintage, casual finally topped with a dallop of retro punkish and lots of faux fur!. :-D....maybe thatll help! Dont let my looks fool you, I love to get dirty and rough it!
I usually do my own makeup in all the photos I have on here unless otherwise stated. I have a wide selection of kryolan and other brands of theatre colorful makeup. Ive been encouraged to and may go to makeup school at some point. I also do my own styling unless otherwise stated. I make a lot of my own clothing.
At the moment I am comfortable doing implied nude! I dont care who you are, who you know or your status. If you take awesome photos or make a great model you are approved in my book! The words "elite", "e-celeb" or "hollywood elite" aka highschool all over again....these words and phrases dont exist in my vocabulary. its childish crap and a waste of my time and intelligence. It always confused me why people have such issues and struggles with individuality. It was always so natural for me to be myself and embrace who I am [even before all the body mods] and pride myself on the fact that I can be my dorky self AT ALL TIMES. I dont usually take myself so seriously....and you shouldnt either!
im open to almost any type of shoot from couture and glam to steampunk, pinup and fetish[and everything in between!]. traveling is one of my passions so ill go anywhere. PLEASE CONTACT ME IF YOU LIVE IN LOS ANGELES,Hollywood, San Diego, SAN FRANCISCO(anywhere in CALIFORNIA) OR BUDAPEST...or wherever your from!... id love to do a shoot, anywhere.. anywhere involving more distant travel- I would need expenses covered, I can help a little..this is for traveling far
currently in the works or starting a fashion line. Designing costumes, streetwear, home decor..and other random goodies! coming soon - some amazing designs! im very crafty.... im usually modifying something or sitting on the sewing machine.
also starting a junk/trash mannequin and canvas art collection...
*Looking for a photographer to collaborate for a photoshoot so I can re enact this Ralph Steadman drawing:
<p>
This is how I wish to look in 40 years from now...
* Obsessed with squishy/gooey objects. looking to do various types of shoots involving jello/pudding/pie custard and the like.
i have other really good crazy photoshoot ideas! I have ideas for all different types and moods for a shoot.I find myself really enjoying fantasizing an idea for a photoshoot almost as much as modeling it! I actually have a whole list so I can remember... I have weird obsessions- ad want to do shoots involving them! I want to do weird, silly, offensive and vulgar shoots too! message me if you want to collaborate....IM READY TO CREATE! I have a little bit of experience, I am willing for TFT if it really benefits my portfolio...PAID shoots come first!! but like I just stated, I will most definitely do TFT. im ready for implied nude ONLY if this is a big chance for some big exposure.... NUDE - paid only!
Im a big fan of Diane Arbus. I have several of her photography books, and am DYING to re enact a few of her photos.
currently taking a break from college. but eventually will go back to major in something along the lines of Philosophy, Creative Writing, Music or Journalism.
Dance: took modern/jazz/hiphop for 12 years. learned a bit of ballet....available for gogo dancing, modern/hiphop and performing!!!
Writing - I did journalist work for a British Newspaper based in Budapest. Im a poet, shortstory and lyric writer. my favorite thing to do on a daily basis.
Music - Currently learning Reason, Renoise, Massiv and garageband... making all types of awesome dirty raw wonderful beats. taking drum lessons soon... collect vinyl and mp3 for djing...
although I am not pursuing a career in photography.. I have to say that I can take one hell of a photograph...I have been told this by many who have seen photos of my pets! I do love taking pictures as a hobby.... especially of animals. Im very good at capturing animals at their cutest!! I am interested in animal and landscape photography.
other passions include: Travel, Art, Fashion, Animals, )*(, Photography, Nature, Learning,human behavior, nature, hair, cartoons, cupcakes, sushi, FOOD,road trips, international misadventures, Reading, SEWING AND DESIGNING ..Swimming,surf/ocean/marine life,INSANITY,a good cup of tea with a good book, fireplace and my pets!!,debauchery, Snowboarding(experienced), Making Things and many many more. etc.
im a really fun,warm,open minded, enthusiastic,adventurous,ecclectic,cultured, energetic(at times) natured girl with a big sense of humor as well. im a HUGE DORK with a HUGE imagination. but most importantly..unlike most I am DOWN TO EARTH.
*I accept ALL friend requests (after all we're on a networking site NOT SNOBSVILLE!) But I would appreciate a photo comment/PM/tag or anything of the sort! Please*
*Not required but would prefer shooting with music playing!
*If you want me for any type of shoot, message me! Im open to pretty much any type of photoshoot! Im in the process of expanding my portfolio...help me expand it!
*note - my hair is always changing.....I have 7 tattoos and 10 piercings. im open to wigs and hiding my tattoos, if i must.
an last but certainly nor least....Commodore and myself are samurai deers...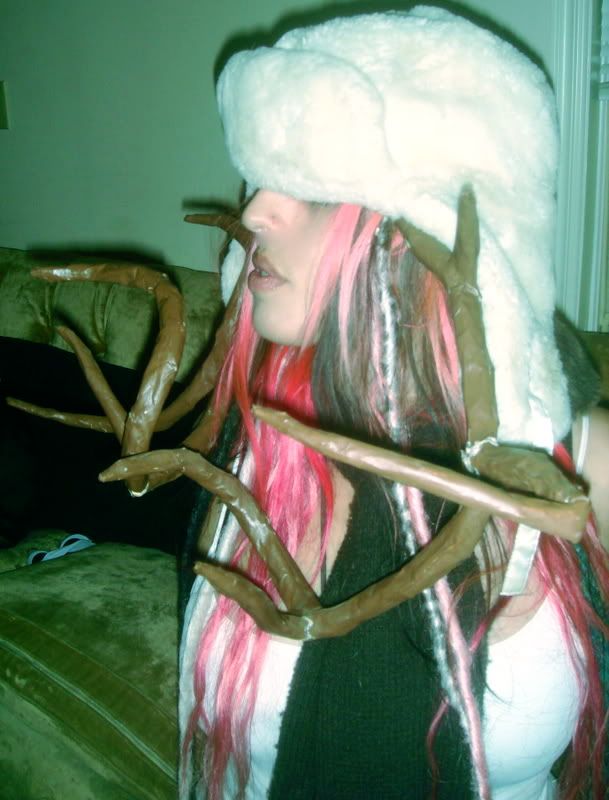 "a Penny a day...keeps the madness away!"
*"I need to be in an atmosphere that is FREE..that is OPEN. thats striving for truth. and NOT someone else dictatin to you how to do your thing which you know how to do that better than ANYBODY ELSE."
*Now can you all see...YES IM A WRITER! hence the long profile*
Credits
Fashion Shows:
Araceli Silva - Designer- aracelisilva.com
Charlie Fisher -HeroinIndustries- San Francisco )*( Decomp 2008
fashion show for a friend in Hungary


Catalouge for Adelphia Cable in St Louis, Missouri when I was 17

MUA:
Lindsay Vacek - makeup artist

Shoots:
Caskey Lackore Photography, #273985
Visions of Excess, #152