Info
Join:

23 Feb 2009

Last:

10 Oct 2010
About Me


We are a husband and wife team of professional photographers specializing in Fashion, Glamour, Beauty and Pin Ups.
We have shot for several magazines including Maxim and Playboy.
We are very laid back and very easy to work with. We will shoot photos that will show you at your very best. Photography is our passion and we love to work with new models and develop amazing images.
We have a genuine interest in helping models of all ages develop their portfolios that will get attention they so deserve. If you are new to modeling we will help you develop a great portfolio that brings out all your true beauty.
If your are looking to make an impression, we will take that artistic, edgy, and glamorous shot we know we both are looking for.
Our Non-Profit Work - Supporting Our Troops
We are the founders and principals photographers for the
http://www.finchfoundation.org
. A non-profit organization to support our wounded veterans. Our primary fund raiser is our Pin Up Calendar called
http://www.patriotgirlscalendar.com
.

We are always looking for models to support our troops and to help boost troop morale. We send calendars, 8x10s and posters to our deployed troops all over the world. Our non-profit also ships care packages to our deployed men and women. Please visit our
http://www.modelmayhem.com/PatriotGirlsCalendars
for more information.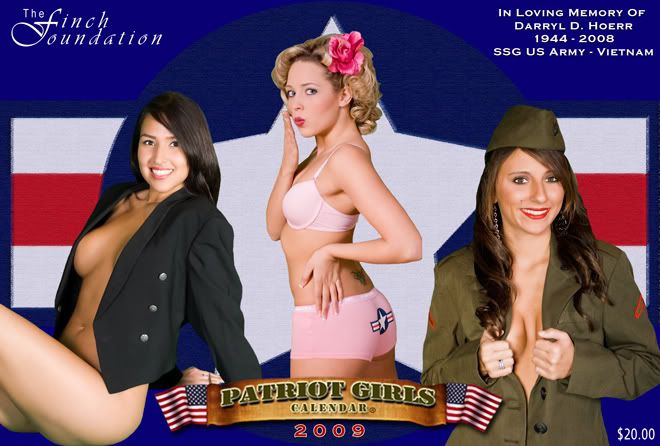 To express your interest, send us a message or e-mail and we will add you to my database of models that I can easily access when I need someone for a project. Please always include an e-mail address and phone number with your modeling inquiries.
We definitely don't have a lot of free time, so please only contact us if you are serious about working together.
What To Expect
We are professionals who are serious about our art. You will be treated with the utmost of respect and we will expect the same in return. Studio locations are readily available but much of our model work is on location.

We are asked on a daily basis to do TF shoots. We do very limited TF shoots and we only shoot with models that meet
our
criteria. Please don't be offended if we do not agree to shoot you.
You will have to sign a full commercial release allowing us to use your pictures.
We DO NOT give out raw or unedited files. Models will receive a CD/DVD of all edited photos within 14 business days of the shoot.
**** Accepting Limited 2009 TF Shoots Now ****
If you are looking to update or start your portfolio - send us your ideas and lets plan to shoot! We are only accepting a limited number of TF shoots for 2009!!

We are strong proponents of escorts. The first thought on any model's mind should be their safety. Always bring someone with you when you are shooting with a photographer until you get to know them. No pictures are worth getting hurt over.

Portfolios / Private Shoots:
1/2 Day (4 hours) - $475 - Edited images on CD with release
Full Day (8 hours) - $800 - Edited images on CD with release
Shooting your concepts, whatever you want, at the studio or on location. Hair / Makeup / Studio Fee included. Clock starts when you go in to make-up and stops when the last shot is taken.
Our rates are negotiable with select models and clients.
You will also be required to sign a limited release, allowing me to use your images for self promotion only (on-line and printed portfolio).
Commercial Projects:
Day Rate - $1,000 and up
Copyright transferred to the client.

Look Swimwear 2009 Bikini Contest
Let us shoot you for the 2009 Look Swimwear Bikini Contest. Cash prizes and national exposure.
http://www.lookswimwear.com?a_aid=497cb45dbbc6d&a_bid=ccef8228

You may visit our website at
http://www.karmellstudios.com
or email us at info@karmellstudios.com
http://flagcounter.com/more/HBdx