Info
Join:

1 Jul 2009

Last:

1 Jul 2009
Friends

Aria Darling
Female
Nashville/Orlando/Columbus, Tennessee
About Me
!!!!!!!!!!!!!!!!!!!!!!!!!!!!!!!!!!!!!!!!!!!!!!!!!!!!!!!!!!!!!!!!!!!!!!!!!!!!!!!!!!!!!!!!!
if you are doing me the pleasure of visiting my page, please vote for my avatar picture in the pic of the day contest today- July 1st! It's the fabulous "brick" photo staring the lovely Christy Meadows and featuring the amazing photographic talents of Robby Miller. oh, and me on makeup. Thanks everybody!!!
~~~~~~~~~~~~HELLO THERE~~~~~~~~~~~~~~~~~~~
i've had a little family emergency setback, but now I'm crazy trying to get stuff together from now until July 10th. I'm open everyday till then to make crazy, cool, amazing, gorey stuff. Let me know if you are interested. no idea is too crazy, the crazier the better. Let's do something cool! death to boring beauty makeup! Blah!
**Working Selective TF- for projects that are AMAZING!**
*rates at this point are kit fee and/or gas money*
Negotiable based on type of makeup, distance, supplies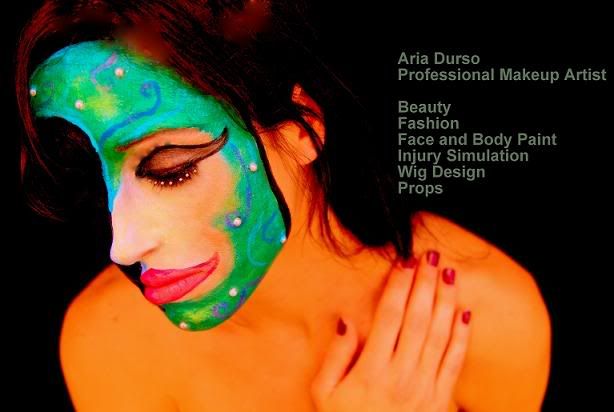 and sometimes i make things like this. yes, i made those super cool wolverine claws and the rest of the costumes.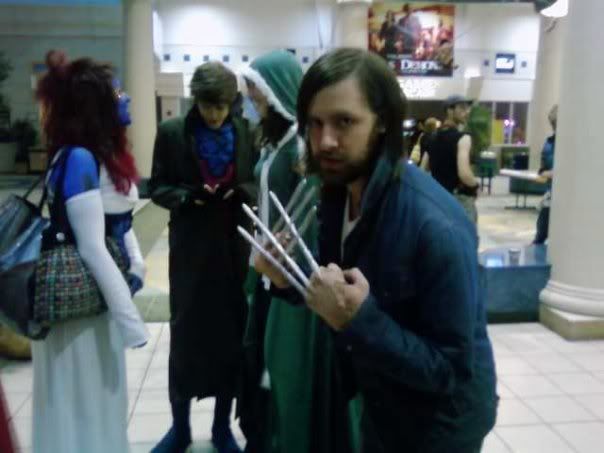 that's me in the blue paint. i'm a dork. whoop.
~~~~~~~~~~~~~~~~~~~~~~~~~~~~~~~~~~~~~~~
i've done a lot of beauty and straight makeup since i came back to nashville, and i am now looking to expand into my true loves of makeup; fantasy, high fashion, and even bringing in gore. here are a few of my ideas, tell me what you think and if you are interested. i'm looking for models and photographers for these projects as of now.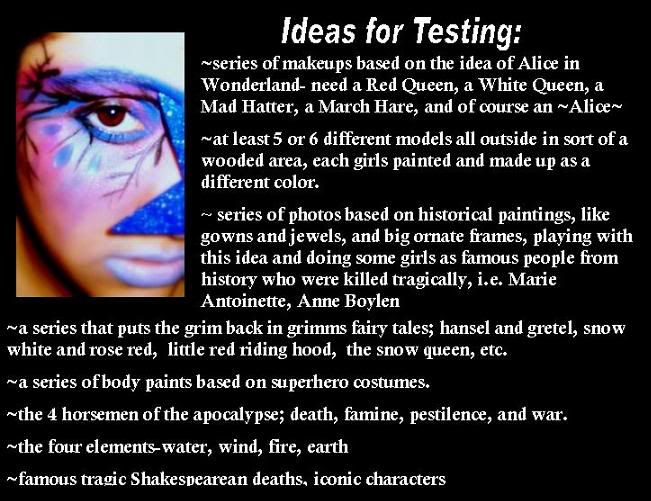 ~~~~~~~~~~~~~~~~~~~~~~~~~~~~~~~~~~~~~~~
and about me........
I am best known for my imagination and ability to create ANYTHING out of ANYTHING. I love and enjoy playing with colors and shapes, and enjoy my work most when it tells a story.
I love fantasy work and period work because it tells a specific story of time, place, and character.
BUT, i also LOVE gore and horror makeups because they give me the chance to really push limits and make something look frightening real.
I am trying to make contacts with models who don't mind getting dirty and ruffled up for the their art, who don't mind getting messy for the shot, who want to push limits with their work, who want to say something meaningful. or just look really really cool. seriously, beautiful collaborations can do so much.
I never flake out, am habitually early, and always polite and professional. I was raised to be a good southern gal, and i always am, yes ma'am.
Credits
Qualifications and Skills:
Education and Training
Joe Blasco Makeup Center East
Orlando, Florida
Beauty Makeup
Clean Beauty
Glamor
Fantasy
High Fashion
Period Makeup
Kabuki and White Face
Body Painting
Special Effects Makeup
Aging Makeup- Paint and Powder, Stretch and Stipple Latex
Bald cap- Making, Applying, Painting
Hair work- Prep, Beards, Mustaches, Period Hair work
Injury Simulation- Cuts and abrasions, Bruises, Burns, Compound Fractures,
Tissue Loss, Blood Tubing
Character Makeup- Tattoos, Simulated Piercing
Monster Makeup- Cotton, Wax, Latex Construction
Prosthetics
Sculpting, Mold making, Snap and Multiple Piece Molds, Seaming, Foaming,
Painting, Application
Wigs and Hairpieces
Design, grooming, cleaning, storage
Creation of Beards and Mustaches from Crepe Wool
Sewing/ Seamstress Duties
Hand sewing and hemming
Under supervision of June Kingsbury of Junebug Designs in Nashville