Details
Height:
5'3"
Weight:
107 lbs
Shoe Size:
8
Hair Color:
Other
Hair Length:
Medium
Eye Color:
Brown
Skin Color:
Brown
Experience:
Some Experience
Compensation:
Any
Info
Join:

14 Jan 2010

Last:

27 Apr 2010
Mys Shanel
Female
United States
About Me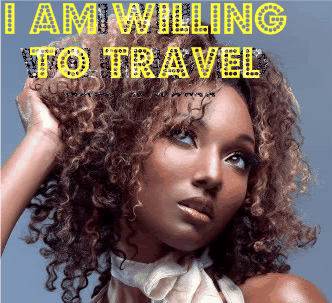 I am a women of God. I have a passion and it is my goal to appear in national hair care and cosmetics ads. I love the challenge of bringing across each clients vision. With the given chance. I will do the same for your vision. I do runway, print, commercial, hair shows...etc.
I am not into nudity or explicit material in any sort. I am here to cater to your vision and show the world your creativity etc... in your hair designs, products,clothing lines, not my body. To be more detailed my top tier goals are to appear on hair care publications, posters ; relaxer boxes and cosmetic publications as well. I know who I am and what I want. This site is strictly networking.Im a dedicated and hardworking determined individual. With the given chance I will succeed and accomplish one of my goals in life and in doing so.I will use this as a tool to be able to mentor young girls and women now and in my future endeavors. Contact me if you feel I can exude your vision! I am currently doing paid assignments and some TFP/TFCD (at the moment) and looking to do more promotional work, so if you are a photographer,(what I like to call)hair scientist,and designer looking to build your portfolio or a company looking to take your brand to the next level. I am the canvas that will get you there. I am very creative and can definetly bring ideas to the shoot ,however, humble in the same, if you have something in mine we can discuss to see about making it happen! I am looking forward to doing business with you!
THANK YOU FOR YOUR CONSIDERATION! GOD BLESS!
+MYS(MS.)SHANEL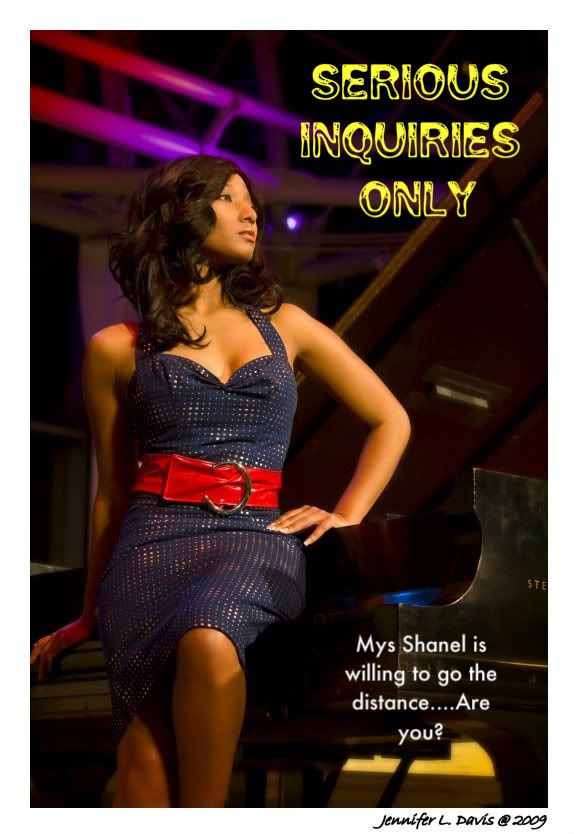 Experience:
+Mode Online Fashion Show(model for Ashley Nicole Collection) Dec.08'
+Fall Hair and Fashion Extravaganza Nov.08'(Nikki Blaine)
+Fall Hair and Fashion Exrravaganza Nov.08'(Ashley Nicole)
+Candy Productions Fashion Show Feb.09'(Ashley Nicole and Misty Apgar)
+Candy Productions Fashion Shoot March 09'(Apgar Fashions)
+Mode Online Fashion Show flyer ads (April 09')
+Indianapolis Star Newspaper (Article featuring Apgar Fashions) April 09'
+Creative Platform Magazine photo shoot (Hair and Fashion) May 09'
+Mode Online Magazine ( www.mdeol.com Publication-"My City")June 09'
+Mode Online Fashion show(Apgar Fashions) June 09'
+Alpha Fashion Show(Nikki Blaine Couture) June 09'
+Patrick Love Photo shoot (Nikki Blaine Couture) June 09'
+EyeMax Cosmetics photo shoot (Kira Lee-MUA) Polina Osheniv(photog) August 09'
+Mark Ellison photo shoot(photog) Sept 09'
+Melissa Brewer photo shoot(photog) Sept.09'
+TrendSetter Model of the Week ( mybluecarpet.com ) Sept.1-7/09'
I am an excellent speaker for all your spokesmodel and tradeshow and promotional needs.
Muncie Central H.S.:
-youth speaker for school at a 100 Black Men Conference in indianapolis,indiana. From there chosen to speak for the youth at the local chapter for the organization.
Volunteer State Comm. College:
-voted vice president of the African American Student Union(AASU).
-nominated to be student ambassador
Credits
photos by: Derrick Snodgrass(indianapolis,indiana)
@New Life Worship Center
photos by: Jennifer Davis (indianapolis,indiana)
@circle centre mall photo shoot
+wardrobe by: Misty Dodson w/ Apgar Fashions
photos by: Patrick Love(indianapolis,indiana)
@PLove Studios
+wardrobe by: (the) Nikki Blaine Couture [swimwear collection]
+Eyemax Cosmetics photo shoot (KiraLee-MUA)
@Polina Osheniv Studios